Wednesday, June 30, 2010
Recipes: Olive Cheese Bread - Revised
Spent Memorial Day (and most of June) with Michael and his parents in Washington. His parents always have a large cookout for the holiday. My plane landed in the AM the day prior. Their housekeeper/cook was making potato salad. She made 4 monster trays for 50-60. Dad purchased the meats, etc. and had orchard apple & blueberry pies delivered. I managed to get coffee and juice in, then went grocery shopping with Michael's mom for the steaks, ice cream and I wanted to make appetizers. Okay, steaks were limited, so try other stores or a change in plan. Since chicken, burgers and hot dogs were already on the menu. I suggested pork. Grabbed garlic powder and Season-All salt for it. We got everything put away. I don't know how Adele managed lunch, too.
The rental company showed up with tent, tables, chairs. I finally crashed...napping for a couple hours. Unpacked and offered to help Adele. She's amazing! Okay, I broke my golden rule 'Holidays are not the time to try new recipes'. I made 6 French bread loaves of
Olive Cheese Bread
(The Pioneer Woman Cooks, Ree Drummond) and
Chipotle Lime Bacon-Wrapped Shrimp
. Stepping back into my comfort zone, I made Michael's favorite...Brown Sugar Smokies. Finally, went to bed around 2:30 or 3.
Morning came too early! Blurry eyed, Adele and I shucked corn. The guys stocked the coolers with soda, beer and extra ice and manned the grills. Give guys fire and they think scorching meat is cooking. 'Uncle' Anthony (Michael's godfather and Dad's golf buddy) did burgers and hot dogs. Dad held down two grills with barbecued chicken. ::teases:: Vic, Jr. isn't allowed near open flames. Dad and Michael are sincere, serious and workaholics. His older brother is...the opposite. Michael unhappily cooked seasoned pork. When I brought him a beer, all I got was "No steaks?" with a look like I just drown a litter of puppies or something. Appetizers went fast. I realized later, my three favorite men...didn't get a nibble.
The day turned out beautiful. Cool and cloudy, but the rain held off. Mom was beaming. Everyone enjoyed the party...myself, included. Later, I stepped back alone, with a silent prayer about for how fortunate I am and what this day was truly about. I got a little teary. Michael held me and kissed my forehead. He knows me so well. The day was simply lovely.
A few days after, decided to make the Olive Cheese Bread (I tasted it, while cutting it into slices on Memorial Day and I found it too salty.) and changed the recipe somewhat. Still salty, but better. If I were to make it again, might allow the green olives to soak in water, rinse then drain them.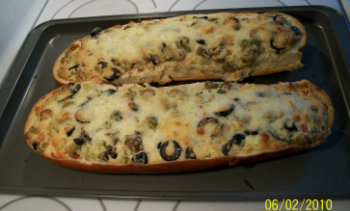 Click on the image above, to view larger picture
Olive Cheese Bread - Revised
1 loaf French bread
(just under) 1/2 cup pimiento-stuffed green olives
1 (6 oz.) can black olives
2 stalks green onions (scallions)
1 stick butter, room temperature
1/2 + 1/4 cup mayonnaise
2 (8 oz. packages) = 4 cups Monterey Jack grated cheese
Roughly chop both black olives and pimiento-stuffed green olives. Slice green onions into thin pieces. Combine butter, mayonnaise, 3 cups cheese, olives and green onions in a mixing bowl. Stir together until thoroughly combined. Spread mixture onto French bread that has been sliced lengthwise. Top with remaining 1 cup cheese. Bake at 325ºF for 25 to 28 minutes or until cheese is melted and browning.

About Me




From Washington DC. I now reside with my husband in the beautiful New England state of Massachusetts. I hope you enjoy my digital scrap kits and scripts. I'm the new kid on the block and create 'tagger size' only. You can e-mail me here
View my complete profile

Blog Archive


Blog Archive