Thursday, September 30, 2010
Wednesday, September 29, 2010
For most of my life I've always had a cat. I recall my Princess, a pure black short-haired cat...her patience while balanced precariously in my arms. I was perhaps six, when she jumped upon my sister's long hair, dangling. My younger sister panicked, screaming for our mother...while I giggled, helplessly.
I spent my summers in Massachusetts, in the company of my 'playmates'...aunts who spoiled me with love. On Sunday, they would gather at my grandmother's house. Holding a jump rope for me, I would sing my favorite rhymes...jumping in and out, as did one of my aunts and a favorite great-aunt. They showered me with trips to beaches and amusement parks, many places over the years...but Sundays with them all together happily, I recall with fondness.
The year, I was ten or eleven, my aunt's cat had kittens and she promised me one. Well, when my parents arrived to take me home at the close of summer...the kitten was too young. My aunt armed me with a doll bottle and a shoe box lined with a small towel. Muffin was mine. My Dad replaced the bottle with an eye dropper. Later, Mom suggested another kitten to keep Muffin company, while I was in school.
Many years later when I married, my husband 'inherited' my two cats and I got his beautiful black lab. Of course, the cats ruled him.
Three years ago Muffin's (and my) little companion, died at age 23. It was a difficult time, for I missed her so. She was always so kitten-like, even as an adult. Muffin was getting older. Two summers ago, we allowed Muffin outside when we would sit at the patio set. We watched her bound...running and frolicking about the lawn, and commented that she was so active and happy to be out in the sunshine.
Last year I was in a minor car accident and was hospitalized for over a month. Michael's mother and her housekeeper/cook came out to stay with me. Michael and his father followed shortly after. Like anyone, I just wanted to get home. When my husband would visit...I asked if everyone was comfortable at the house, and of course about Muffin. He said she missed me, wasn't eating much of anything and was staying downstairs in the family room. She's wasn't doing well and was weak. I insisted upon going home. After the operation I would be in a wheelchair...6 to 8 weeks, no weightbearing on the foot.
I couldn't 'walk' downstairs, so my husband carried me into my office (where Muffin spent much time with me). I called her name repeatedly. He had said that she was weak. Finally, she actually climbed the stairs and walked slowly to me. Crying, I reached my hand down to her...she looked so frail. Two days later she died on my lap. My husband went jogging, I'm sure it was hard on him. When he returned, I was still stroking her and told him that she was gone. When he went to take her...I explained she might expel air from her lungs. My husband is a state trooper. I went to pieces. I was beside myself with grief. Muffin gifted me with her love and devotion for 25 years.
I wanted more time...one more summer. He buried Muffin beneath a (summer blossoming) tree at the edge of our property. He knew I needed closure. My husband held me, talking to me.
I was very quiet, never crying near others staying at our house or friends visiting. Tears would come, but I held them at bay. Later, Michael told me that his mother thought I needed another cat. I couldn't fault her...they never had a pet in their family. I explained to my husband and later to Michael, that I never wanted another. It was too difficult for me. Those of you whom have lost a beloved pet understand.
Well, winter turns to spring...and finally to summer.
I arrived in Washington state, prior to Father's Day. I had got Michael's father a decanter of his favorite cognac and, was searching Michael's laptop for a couple of small antique crystal or EAPG tumblers. Michael's mother was intrigued. We shop together often, but loved the idea that one can purchase at other than bricks and mortar. I ended up buying him the same vintage glasses that I collect, Paden City's Spring Orchard pattern (I prefer the whiskey footed glassware for serving liqueurs, than the tall cordial glasses). I stayed for a few days...long enough to get Mom addicted to Ruby Lane. A friend collects primitive dolls. While searching online for a birthday gift, I entered 'primitive ragdolls'. I came across a picture of ragdoll kittens. Michael's mom mentioned I should get a kitten. I smiled back and shook my head with a soft 'no'. Never located a doll, so purchased a small crystal/glass lamp online...rewired it and included one of my Aerolux bird with flowers light bulbs.
Michael flew out to visit in late June. We were in Connecticut. A few hours after breakfast, he mentioned going for a drive. That's not like Michael. Michael's a detail oriented and exacting person who plans ahead. He's anything but spontaneous. If he said "I found a restaurant for dinner to try". That's more like him. I wondered aloud if I should change. I was wearing slacks and if he wanted to stop for lunch...seemed as though we had just eaten. I was fine, according to him.
I noticed when we entered Massachusetts. I was clueless where we were...just country roads. I wondered if he planned to dispose of my body in some little hilltown. Finally another long road and he stopped. I recall saying something "This isn't a road. This is a driveway. You can't park here." I wasn't dressed for hiking. He told me to relax. I just repeated "Michael, you can't park here". Finally, announced that he was buying me a kitten. I got scared and mumbled something. He opened my door and said if I wasn't ready, we would merely look. Thankfully it was very busy and I was distracted. I didn't notice until she held up two tiny kittens. Michael swore my mouth formed a circle and I said "Oh". I do remember reaching out. They were two weeks old. Michael assumed that wasn't a problem (no pet history). Later, Michael commented that they looked like two small white rats. They were simply precious. He said the kitten was to be an early birthday gift.
Here's Bella (Italian for beautiful) and she is a joy.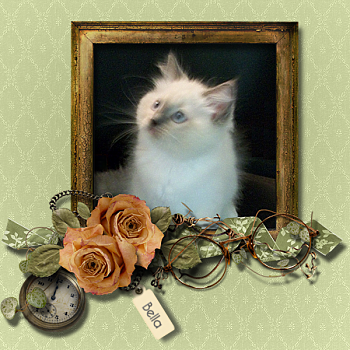 Click on the image above, to view larger picture
The Moments In Time cluster frame was created by Ellen at Raspberry Road Designs

About Me




From Washington DC. I now reside with my husband in the beautiful New England state of Massachusetts. I hope you enjoy my digital scrap kits and scripts. I'm the new kid on the block and create 'tagger size' only. You can e-mail me here
View my complete profile

Blog Archive


Blog Archive