Wednesday, March 9, 2011
Recipe: White Trash Mix Candy
There are many recipes for this candy online. I've yet to try the 'lemon' version. Seems the men in my life don't like lemon. Ladies, don't waste intellectual energy hiding that bag of M&Ms...guys will find them. Here's my basic recipe for White Trash Mix candy.
White Trash Mix
1 1/2 to 1 3/4 lbs. white chocolate
1 to 1 1/2 tablespoons vegetable oil
3 cups Cheerios cereal
3 cups Quaker Cinnamon Life cereal
3 cups Rice Chex cereal
1 lb. milk chocolate M & M's
2 cups unsalted OR salted peanuts
2 cups small pretzel sticks
Break up extremely large white chocolate pieces, using a heavy blade knife. Medium to medium large chunks of chocolate are fine. I use a cutting board, covered with a clean cotton kitchen towel. Melt chocolate in double boiler over hot water. Stir in the oil, while chocolate is at melting stage. In a large bowl, mix the remaining ingredients. I use a large bowl, then transfer some of the mix to another medium-large bowl, to ease when you need to stir. Pour melted chocolate over mix, then stir to coat completely. Spread onto waxed paper to air dry. Cool, then break into small pieces and store in an airtight container.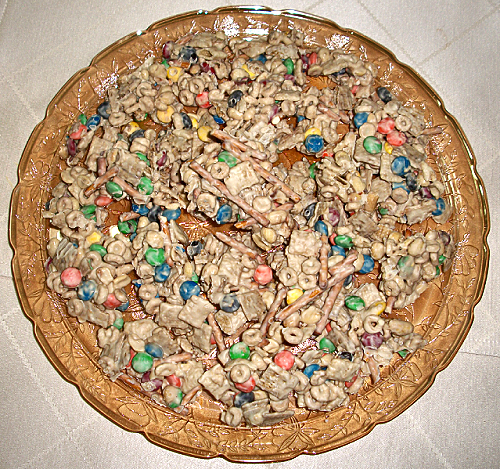 About Me




From Washington DC. I now reside with my husband in the beautiful New England state of Massachusetts. I hope you enjoy my digital scrap kits and scripts. I'm the new kid on the block and create 'tagger size' only. You can e-mail me here
View my complete profile

Blog Archive


Blog Archive